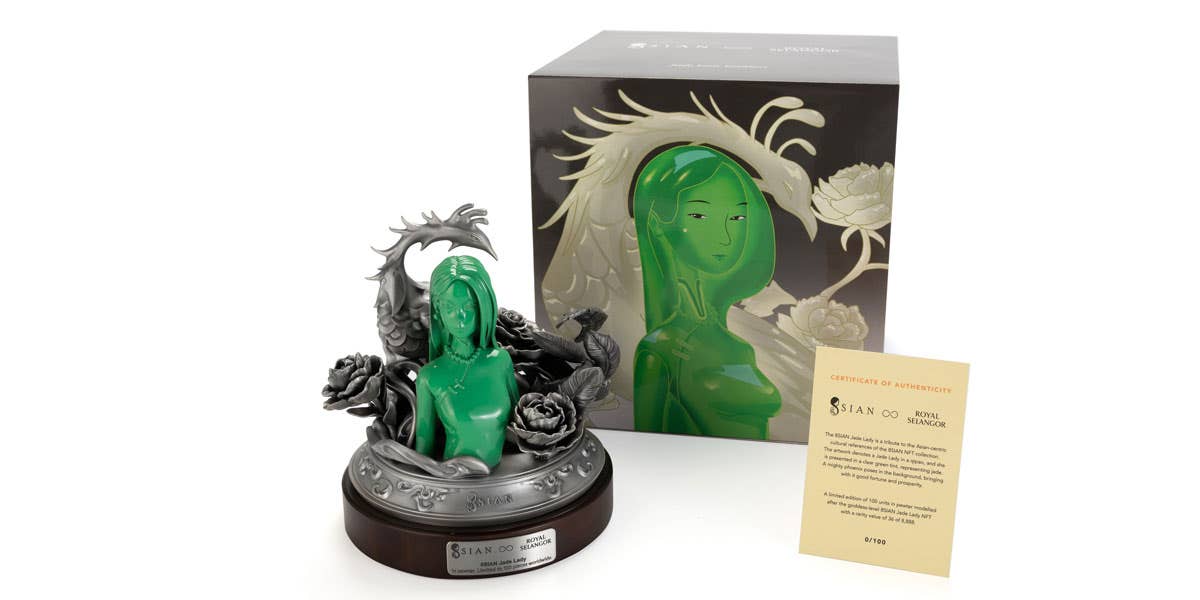 Royal Selangor pushes the boundaries of pewter through its collaboration with 8SIAN, the pewter crafted 8SIAN JADE LADY x ROYAL SELANGOR, at the Metaverse Fashion Week, hosted by Boson Protocol on Decentraland.
8SIAN is a homegrown NFT brand with a global presence that focuses on community building through beautifully-crafted Asian inspired art. The metaverse is a digital alternative to the physical world where virtual avatars come together to work, shop, play and engage with online communities.
The 8SIAN JADE LADY carries with it plenty of Asian-centric cultural references. It features an Asian woman in a qipao. The woman is presented in a clear green tint, representing jade. Jade is a significant gemstone within the Asian cultural sphere, linked with wealth and nobility. A mighty phoenix poses in the background, symbolising good fortune and prosperity. In Asia, jade and pewter are precious and highly-valued commodities, often used in functional and heirloom pieces. As such, they were part of Royal Selangor's founder, Yong Koon's, first touchmark: Yu He Zu Xi, or Jade Peace Pure Tin.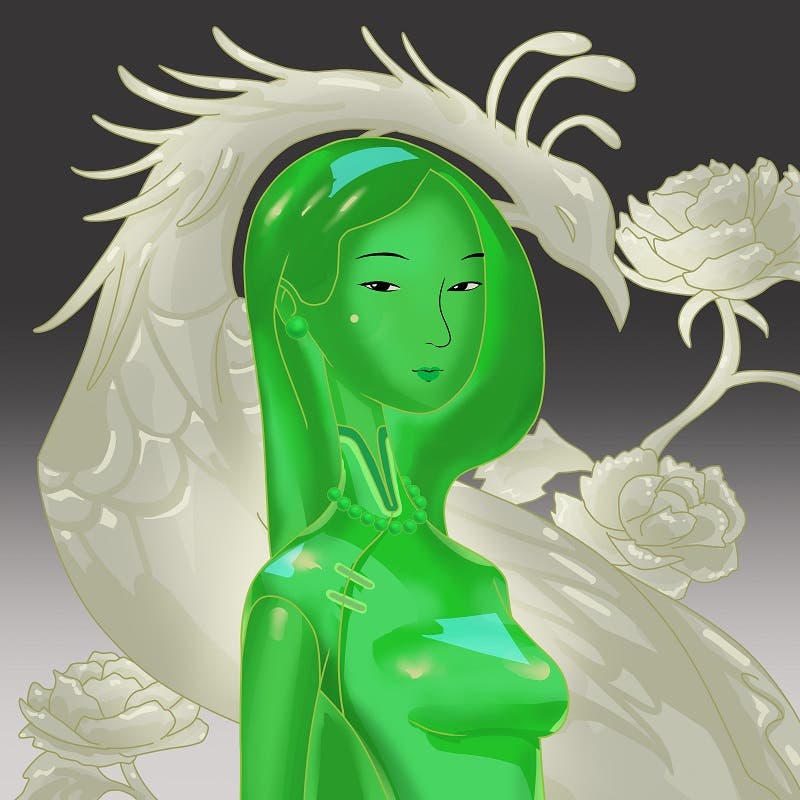 Originally the brainchild and artistry of MrHike from 8SIAN, the piece is now owned by Matt Higgins, an American businessman and the co-founder and CEO of RSE Ventures, a private firm that incubates and invests in companies across sports and entertainment, food and lifestyle, media and marketing, and technology. Matt is known for his appearance as the guest investor on the long running successful American business reality TV series, SHARK TANK.
In this collaboration, Royal Selangor presents an exquisitely crafted pewter figurine based on the 8SIAN JADE LADY. The 8SIAN JADE LADY x ROYAL SELANGOR is limited to only 100 pewter units. Purchasers will also receive a virtual piece of the Jade Goddess Skin for their avatars to wear, along with a physical numbered pewter figurine which will be delivered to them.
This physical item comes with a digital wearable which will be airdropped to your Metamask wallet within 4 weeks of your order.
About 8SIAN
Inspired by the rich Asian culture over thousands of years, 8SIAN aims to create a signature NFT collection in the growing NFT space that represents and connects the Asian community. Founder, Nicole, envisions 8SIAN being a global, inclusive community for all, not only Asians or females but for those who share their admiration for Asian cultures. 8SIAN wants to represent, educate & build a lasting presence in the NFT space and is committed to fully integrating 8SIAN into Web 3: Bridging the Asian culture into the metaverse.