The Lucky Teapot
Ah Ham's lucky melon-shaped teapot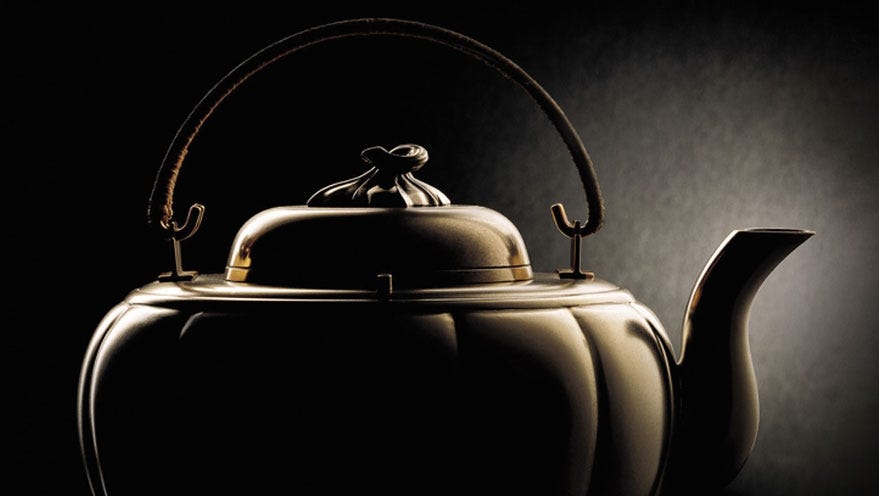 One of the most stunning pieces to survive intact from Yong Koon's early years in Malaya is a melon-shaped teapot. With a stout segmented body and a whimsical stem on the lid, it bears the Ngeok Foh touchmark. The pot is notable for its intricacy: each of the 12 segments that make up the body was individually cut from the pewter sheet and carefully hammered into shape in the old way, then soldered together.
Such antique pieces are rare. In the past, families often had their old pewter pieces melted down, so the tin could go towards making new items for a son or daughter's wedding.
How this melon pot made its way full circle back into the hands of the Yong family is a saga in itself.
It was the Second World War and the Japanese were advancing into Malaya from the North. As the British retreated southwards along the peninsula, the dropped bombs to destroy supplies that the advancing Japanese army might find useful.
For hungry villagers in Kajang, a small village south of Kuala Lumpur, the gnawing in their bellies proved stronger than the fear of being blown up. Even as bombs rained down, desperate people scrambled into a well-stocked warehouse to grab bags of rice to feed their families.
Like everyone else, a young man known only as Ah Ham ran in to get food. Unlike the others, he emerged with a piece of history. Amid the mayhem in the warehouse, the villager spied a melon-shaped teapot. As he bent to pick it up, he heard a shrapnel whiz just above his head. A shaking Ah Ham ran out clutching the pot, convinced the vessel must have mystical powers that saved his life.
For decades afterwards, Ah Ham entertained friends with his wartime story as he poured them tea from the melon pot. In the early 1970s, Ah Ham decided that his lucky teapot could do with a polish. He asked a friend to take it to the pewter factory, where someone immediately recognised the Ngeok Foh touchmark on the bottom and persuaded Ah Ham to part with it for a small sum of money.
The melon pot is now in the company's archival collection. It has spawned a line of reproduction melon shaped teapots, tea caddies and other melon-shaped products.
With a rich heritage dating back to 1885, Royal Selangor is the world's foremost name in pewter design and craftsmanship — producing a wide range of homeware, gifts and personal accessories