Corporate Gifts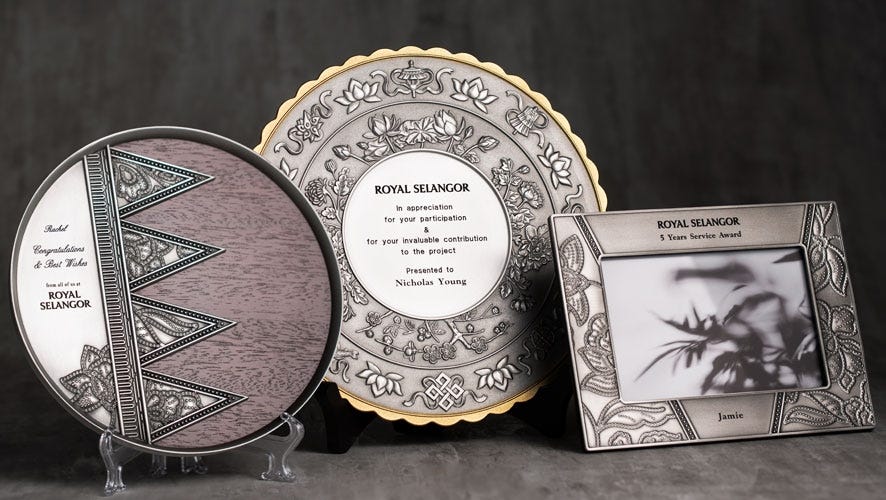 Corporate Enquiry
Turn to us for elegant and memorable gifting solutions for your upcoming events and campaigns.
Whether it is a celebration of a successful business venture or an achievement of a major milestone, each fine pewter piece is an expression of respect and high regard.
Bespoke, bulk orders and engraving services are available.
Volume discounts are available. Please contact us via the corporate inquiry form or email us at corporate@royalselangor.com for more details.
Personalisation
Express thanks to your corporate partners, mentors, and employees with a personalised message.
Turn any occasion into an opportunity to promote your corporate brand. Discover our personalisation options.
Logo and image colour printing
Laser and standard engravings
Monograms
Bespoke
Immortalise any occasion in pewter.
Royal Selangor has been commissioned by several companies to produce branding solutions, merchandise, trophies, medals and awards. Let our team of designers and highly skilled craftspeople help you with yours.
Interior Architecture
Royal Selangor brings its expertise to the world of interior architecture through Metalesce. Metalesce fuses a thin layer of metal such as bronze, aluminium or pewter on substrate materials such as acrylic and ceramic, creating a finished piece that simulates metal.
Metalesce metal coatings are produced using a patented, cold spray metallising process, utilising up to 75% pure metal. Layers of liquid metal are seamlessly fused onto substrate materials at room temperature. The properties of the metal are retained, and the finished product is durable, lighter and visually indistinguishable from solid metal. The surfaces of metalesce products are sealed with high-quality and long-lasting acrylic lacquer to keep moisture out.
Highlight the best aspects of your space and achieve a lustrous, sophisticated interior with Metalesce. Metalesce products can be used in interior design applications such as:
Bespoke Door Handles
Water Features and Sculptures
Pillars and Panels
Counters and Loose Fittings
Give your recipient the perfect unboxing experience.
From premium wooden gift boxes to customised packaging sleeves, discover elegant packaging options and wrapping services that bear the exclusive character of a Royal Selangor piece.
Customised Packaging
Small but perfectly formed
Designed to impress
Bestsellers
The 'wow' factor
The cream of the crop
What our customers think about us: