Crafting 135 Years Of History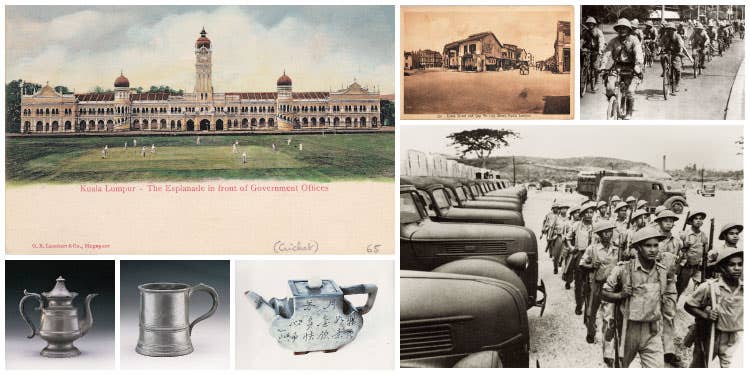 KL Town – then vs now
Kuala Lumpur (KL) means 'muddy estuary' in Malay. This small town was perched at the confluence of the Klang and Gombak river. The discovery of tin in the settlement in the late 19th century spurred a rush of tin miners from China to the burgeoning tin mining town. The confluence of both rivers is also the location of Masjid Jamek. Known for its beautiful Mughal-style, it is the oldest mosque in the city. A short distance away is Petaling Street or Chinatown. It was the base of many wealthy Chinese traders who lived and conducted their business in ornate shophouses. The commercial vibrancy and energy of Petaling Street can still be seen and felt today. Now a bustling metropolis of gleaming skyscrapers and diverse cultures, Kuala Lumpur functions as Malaysia's capital city and is an economic powerhouse in Southeast Asia.
The British colonisation of Malaya began in 1824, though the Anglo-Dutch Treaty whereby both colonial powers decided to swap territories. The British had integrated all the Malayan administration which was previously managed by the Malay Rulers with the help of state dignitaries. They encouraged young Chinese men to travel to Malaya to work in the tin mines that were just being opened. Not all of them came as miners. Some came as pewtersmiths who brought their craft to parts of Southeast Asia. Pewter is made primarily from tin and other metals. In Asia, it was first used in China, more than 2,000 years ago. Chinese pewter was mainly used for ceremonial purposes. One of these immigrant pewtersmiths was Yong Koon, the founder of Royal Selangor. At 11, He became an apprentice pewtersmith in the port of Shantou, a major centre of Chinese pewter. After three years of learning his craft, at the age of 14, he sailed to Kuala Lumpur to join his brothers in 1885.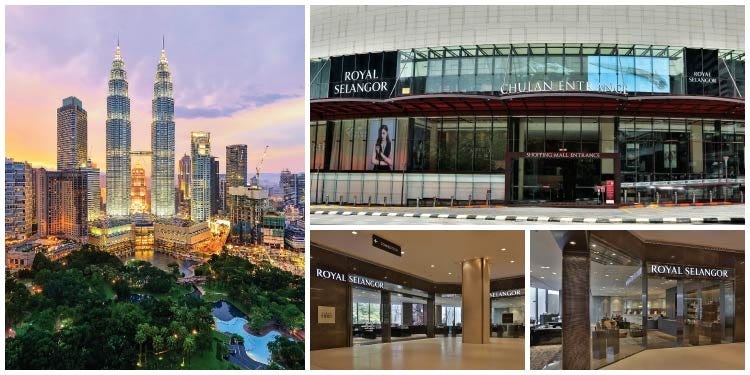 RS Store – First store vs flagship store
Yong Koon and his brothers lived and worked in a shophouse located at No. 23, Cross Street, now known as Jalan Tun Tan Siew Sin. The shop was known as Ngeok Foh in Hakka or Yu He in Mandarin Pinyin. The name meant Jade Peace. They made Chinese pewter altar paraphernalia and household items. When demand from his western customers increase, Yong Koon and his family expanded the production of western style items such as vases, figurines, cocktail shakers and casserole stands. Yong Koon had four sons, who squabbled over how to run the business which led to the formation of other pewter companies, - Malayan Pewter, Tiger Pewter, Lion Pewter, and Selangor Pewter. Only Selangor Pewter, run by Yong Koon's third son, Peng Kai, survived. He produced his pewter pieces from the factory at Pudu Road which had been in the family's possession since the 1930s. In 1962, he made a leap of faith and moved to a spacious modern manufacturing facility in Setapak.
Fresh after World War II, Peng Kai was free to expand the retail side of his business. In 1945, he opens a modest retail outlet on Batu Road (now Jalan Tuanku Abdul Rahman) which was manned by his wife. A one-woman operation, she served customers and maintained the premises. Today, Royal Selangor stores are staffed by sales professionals and features beautiful product displays within elegant interiors that showcase the brand essence and makes use of pewter as a key design element. The company has a retail presence in major cities around the world including London, Hong Kong, Singapore and Sydney. The flagship store is located at Pavilion Kuala Lumpur. It features an all-encompassing retail experience. Its monotone look harmonises different colours, materials and textures which include a showcase of tiles and coffee table using Royal Selangor's Metalesce technique, to provide immense visual and tactile experiences. The overall look is enhanced with audio visual technology to keep customers engaged at every level.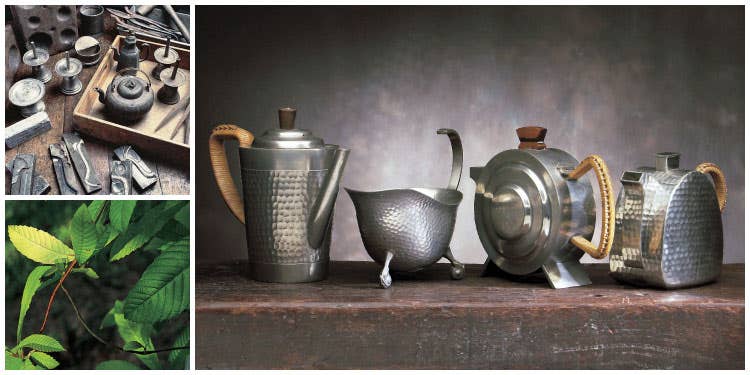 Product evolution – antique vs modern
In the past, a pewtersmith began melting tin in a wok over a charcoal fire. Metals like antimony were added in to harden it, thus creating pewter, an alloy. Once the alloy achieved molten state, it is ladled and poured slowly between two terracotta tiles to cast into a pewter sheet. The cast sheet measuring 12 or 16 inches was cooled and scraped with a steel blade to remove a layer of oxide. Patterns of the product that would be made would be cut from the pewter sheet. These pewter pieces would be knocked into shape by a wooden mallet, its excess edges filed away and finally soldered to create a whole product. Polishing, the final step was performed with a "stone leaf". The upper part of the leaf was covered with tiny barbs and was used as a sandpaper substitute in the old days. Modern-day pewter crafting still follows the time-honoured steps of the traditional pewtersmith such as soldering, assembling and polishing. However some processes are augmented by machines to provide greater uniformity and precision, especially for products like the air-tight tea caddy.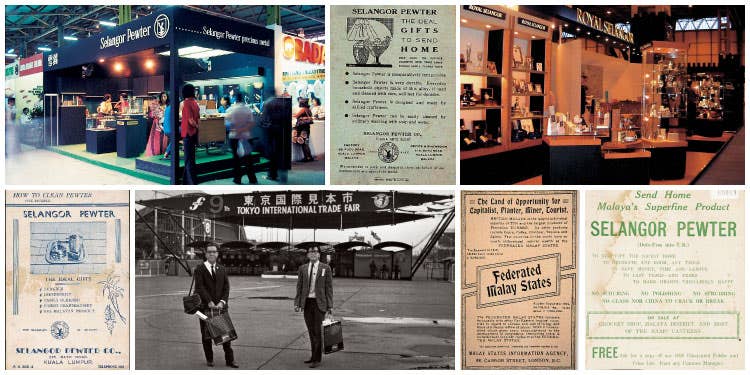 Business Expansion
Marking its 135 years after weathering two world wars, family feuds and economic turmoil, Royal Selangor continues to stay relevant through its entrepreneurial spirit and knack for innovation. When demand for western-style items increased in the 1930s, Yong Koon and his sons shifted its focus to producing tankards, vases and other items popular among western expatriates. It laid the foundation for an export market in future years. The company started exporting in the late 60s - firstly to Singapore and then later to Hong Kong, Germany, Denmark, Japan, Australia and the UK. The company also began participating in international gift and tableware fairs. In the 1970s, the company began showing its products at the Frankfurt International Gift Fair, the most important one for the industry. It has since added Birmingham, Toronto, Melbourne and Sydney to its annual fair circuit. Today, Royal Selangor exports to more than 20 countries, and has its own retail stores in Malaysia, Singapore, Hong Kong and Australia.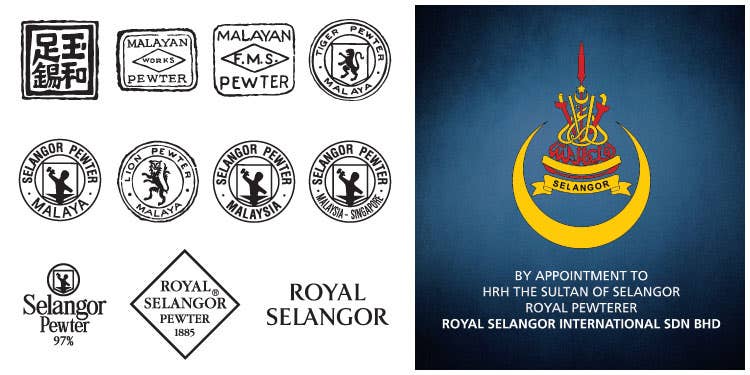 Royal Warrant & Evolution of Touchmarks
In 1979, the company received a royal warrant from the Sultan of Selangor. To reflect the royal endorsement and the diverse nature of the company, Selangor Pewter changed its name to Royal Selangor in 1992. It continues to be run by the third and fourth generations of the Yong family.
Touchmarks Associated with Royal Selangor
Three immigrant brothers who sailed to Malaya from China in the 1880s started tinsmithing enterprise Ngeok Foh, or Jade Peace. As a sideline, the Yong brothers made ceremonial pewter items. The descendants of one brother, Yong Koon, later specialized in the pewter trade. Over the years, family feuds led to the creation of several pewter companies. The evolution of touchmarks associated with the enterprise is illustrated below.
Award Winning Designs
Royal Selangor has won many awards around the world, gaining recognition over the years for its non-traditional use of pewter, for combining pewter with other materials and for sheer beauty of design.
2018
Winner, Tableware International Awards of Excellence, Best Metals/Metalware Category for the Crystalline Collection.
2013
Finalist, International Design Excellence Award (IDEA) 2013 by the Industrial Designers Society of America (IDSA) for the Serenity collection
2008
Gold Award at the Point of Purchase Advertising International European Award for Veuve Clicquot Ponsardin Champagne Refraichissor
2002
Red Dot Award: Product Design 2002 from Design Zentrum Nordrhein
Westfalen, Germany for the Wine Celebration Funnel
Page
You're currently reading page

1
Women have always played crucial roles in crafting the 135-year history of the Royal Selangor brand, whether or not their menfolk were entirely aware or indeed appreciative.
Arriving in Malaya in 1885, Yong Koon's early years were not easy ones. It took over a decade before he was able to go back to China to marry Loh Pat, returning alone to Malaya soon after, and nearly another before the next journey home, this time to bring his wife and their first child with him to Kuala Lumpur.
A charcoal of Loh Pat (1880-1936), based on the only known photographic image of her
By all accounts a formidable wife with sharper business sense than her husband's, Loh Pat's diligence, thrift and nose for opportunity resulted in the accumulation of a cache of gold rings, without which her young family could not have made the purchase of 219 Pudu Road as a shophouse of their own.
Yong Koon's third son and successor Peng Kai made an equally fortuitous match when he married Guay Soh Eng in 1938. When, after the war, they secured a retail space on Kuala Lumpur's busiest shopping street Batu Road, it was Soh Eng who managed the front of house, selling products her husband made in the Pudu Road workshop. She single-handedly served customers, maintained the premises and kept the books, as well as an eye on any number of her four children poring over homework out the back. Peng Kai had no hesitation in declaring, "My wife is my right arm.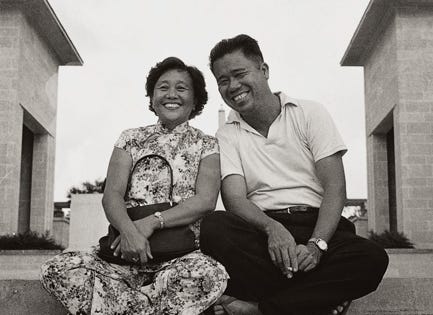 Soh Eng (1918-1995) and Peng Kai (1915-1990), love-struck teenagers in all but age
Whilst she shared her mother-in-law's strong work ethic, Soh Eng's defining attribute was her irrepressible joie de vivre. On occasion, the Pudu factory floor would become class for instructions in the rumba, cha-cha and other dances in fashion. Her family's bedrock, and emotional anchor not only to kin, she was and continues to be affectionately referred to as 'Auntie' by all who knew her and her infectious laugh.
Some say industriousness is a trait ingrained in the Chinese. If so, it was certainly true of Soh Eng's children, all of whom would work for their parents as soon as they were able. Bookended by their brothers, academically accomplished, and convivial to a fault, sisters Mun Ha and Mun Kuen brought to the family concern what today would easily be recognised as intangibles or 'soft power'.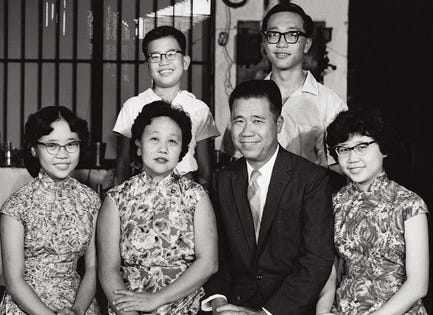 Mun Ha (b. 1941) and Mun Kuen (1942-2019), with brothers Poh Kon (b. 1945) and Poh Shin (b. 1939), in a family portrait from 1957
As well as assuming bookkeeping responsibilities, Mun Ha's deft way with people, and with customers in particular, led to her being the most involved of her siblings in the retail aspects of the business. In Mun Kuen, this same characteristic resulted not only in her becoming the de facto face of the brand, hosting guests, celebrities, dignitaries and royalty both domestic and international, her disposition made her the heart of family and firm like her mother before her.
Soh Eng's daughters weren't the only women instrumental in Royal Selangor's evolution. At 21, her niece Boon Lay became the first with formal creative training to design for the brand, bringing structure to a previously ad hoc process. She gave a much-needed modernity to its products, and a professional aesthetic to its marketing collateral, essential at a time when the brand was taking early steps into the far more sophisticated international arena.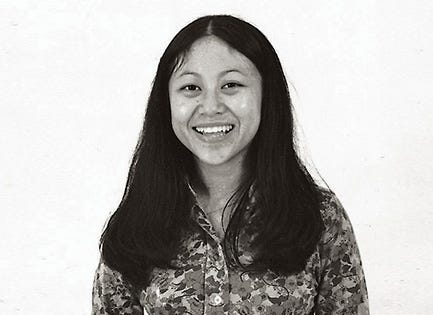 Guay Boon Lay (b. 1951) introduced a contemporary design sensibility to the brand
Some of Boon Lay's designs from her start in 1972 remain in production and popularity, testament to her considered eye and sense of refinement. Today's 40-strong design department, a far cry from her one-woman rooftop studio, is the legacy of Boon Lay and her late husband Anders Quistgaard.