Royal Selangor Collaborates with The Balvenie to Bring Together a Collector's Edition that Celebrates Over a Century of Fine Craftsmanship
A tribute to shared passion for time-honoured craftsmanship, Royal Selangor and The Balvenie unveiled our first ever collaborative collection, a limited edition collector's box and a selection of exclusive gift packs at a virtual launch for Malaysia and Singapore on 16 December 2020.
This is The Balvenie's collaboration under The Balvenie's Handcrafted By platform that aims to bring to life the passion for craftsmanship, and celebrate the passion and people behind crafts.
The limited edition collector's item comprises an exclusive set of rare and especially fine single malts by The Balvenie and with only 15 individually numbered sets available.
"We are excited to work on this debut bespoke collector's box with The Balvenie. Collaborating with a partner that places just as much emphasis on craftsmanship, it was only fitting that we chose to use Royal Selangor's signature hand-hammered finish. I hope The Balvenie's customers will appreciate and treasure this special piece that stores their favourite The Balvenie whiskies," says Chen Tien Yue, Executive Director of Royal Selangor.
"It is an honour to partner with Royal Selangor as when the world around us is automating, and true craftsmanship is becoming a rare commodity, we truly value those who share the same dedication, passion and heart for it. This collaboration represents our time-honoured craftsmanship over generations and we are proud to have produced one of the finest bespoke collector's boxes to house our unique top range whiskies," comments Brett Bayly, The Balvenie's Regional Brand Ambassador for Malts in Southeast Asia.
Collector's Box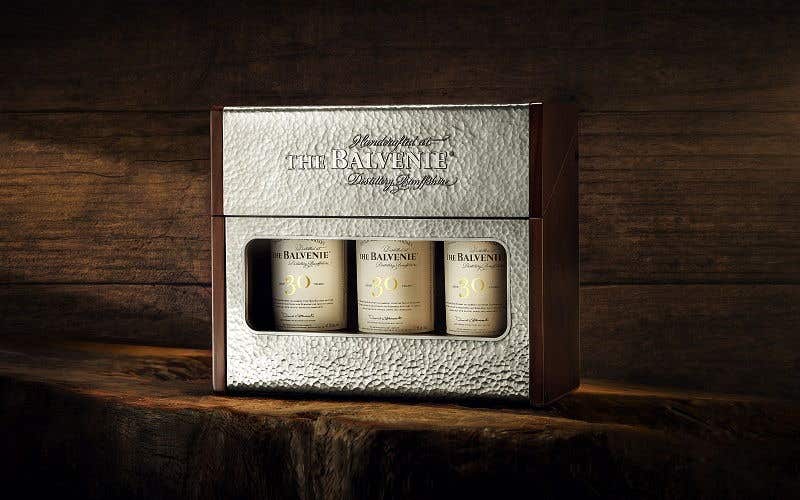 A true work of art, the collector's box is a vessel made from high grade walnut wood encased in handcrafted pewter which utilises Royal Selangor's signature dimple design and hammering technique that requires a great deal of skill and precision. Each set takes up to six days to complete, reflecting the finely tuned attention to detail and skill which defines this collaboration.
The gift packs consist of a selection of the rich and luxuriously smooth 12 Year Old DoubleWood, 14 Year Old Caribbean Cask and 17 Year Old DoubleWood single malt that comes together with a handcrafted pewter based whisky glass.
Only available for a limited time, the exclusive gift packs make a thoughtful and exquisite gift for whisky aficionados and those who appreciate finely crafted collectibles.
For enquiries about the Collector's Box please contact:
Singapore: Kok Ping Lim (WG&S Country Manager, Singapore) KokPing.Lim@wgrant.com
Kuala Lumpur: Jimmy Low (WG&S Country Manager, Malaysia) jimmy.low@wgrant.com
About The Balvenie
The Balvenie is a unique range of single malts created by David Stewart MBE, The Balvenie Malt Master was awarded an MBE for services to the Scotch whisky industry by Queen Elizabeth II in 2016. Each expression has a very individual taste, but is rich, luxuriously smooth and underpinned by the distinctively honeyed character of The Balvenie.
The Balvenie is dedicated to the five rare crafts that are used to create The Balvenie's distinctive taste. It is the only distillery that still grows its own barley, uses traditional floor maltings and keeps both coppersmiths and coppers on site – making The Balvenie the most handcrafted of single malts.
The Balvenie Single Malt Scotch Whisky is produced by William Grant & Sons Ltd, an award-winning independent family-owned distiller founded by William Grant in 1886 and today run by his direct descendants.
About William Grant & Sons
William Grant & Sons, Ltd. are an independent family-owned distiller headquartered in the United Kingdom and founded by William Grant in 1887. Today, the luxury spirits company is run by the fifth generation of his family and distils some of the world's leading brands of Scotch whisky, including the world's most awarded single malt Glenfiddich®, The Balvenie® range of handcrafted single malts, and the world's third largest blended Scotch, Grant's®, as well as other iconic spirits brands such as Sailor Jerry®, Tullamore D.E.W.® Irish Whiskey, Monkey Shoulder® and Drambuie®, Reyka® Vodka and Milagro® Tequila.