Ink
An expression of tradition, culture and individuality, the art of tattooing is over 5,000 years old and continues to evolve. Ink, the collaboration between three renowned tattoo artists and Royal Selangor, proves that the craft goes beyond the tip of the needle.
Fin T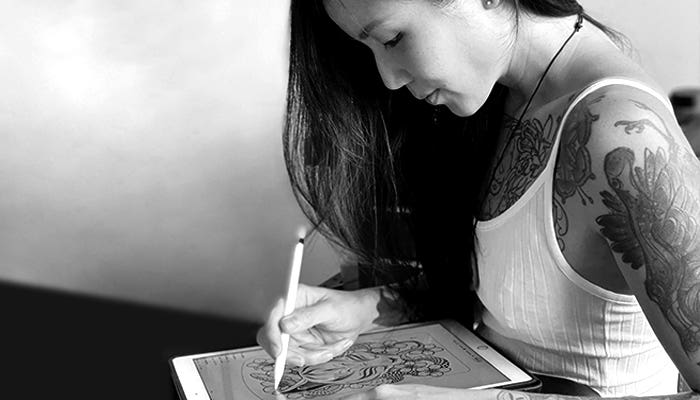 Kuala Lumpur native Fin's neo-traditional tattoos, overlaid with her love of detail and texture, are often further enhanced by oriental influences to create a signature style.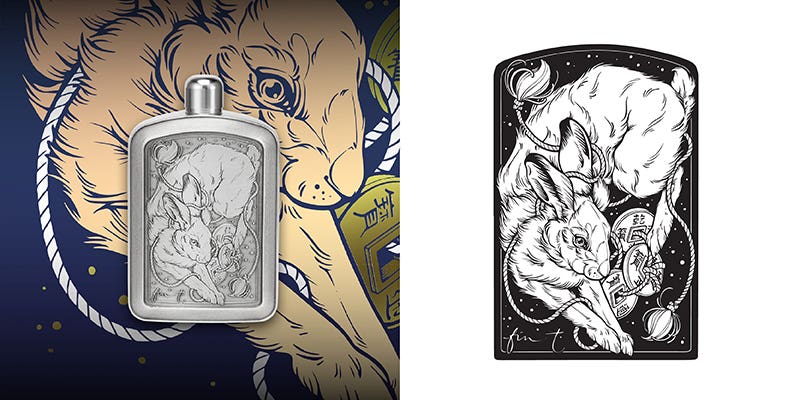 Limited Edition Fin T Hare Hip Flask
The hare is inextricably linked to China's legend of the Moon Goddess Chang'e. In its telling, the creature prepares the elixir that maintains the goddess' immortality, the crucial task linking the hare itself to eternity. It is also considered symbolic of prosperity, wisdom and kindness.

Rendered in Fin T's distinctive style, a frisky hare plays amongst three lucky coins representing heaven, earth and humankind, bound together to symbolise good fortune. Together, the combination of hare and coins reads everlasting prosperity.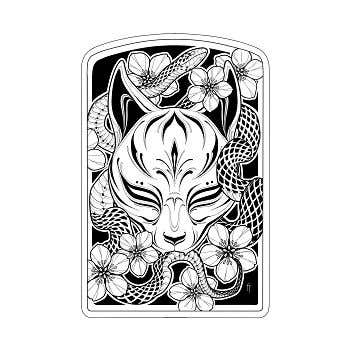 Limited Edition Fin T Kitsune Hip Flask
The Kitsune, or fox in Japanese, is a sharp, quick and adaptable creature, often utilising its shapeshifting abilities and cunning out in the wild. The fox is also believed to symbolise intelligence and good fortune. Designed by Fin T. from Malaysia who specialises in neo-traditional styles, heavily peppered with more detail, texture, and a touch of oriental influence.
Luca Ortis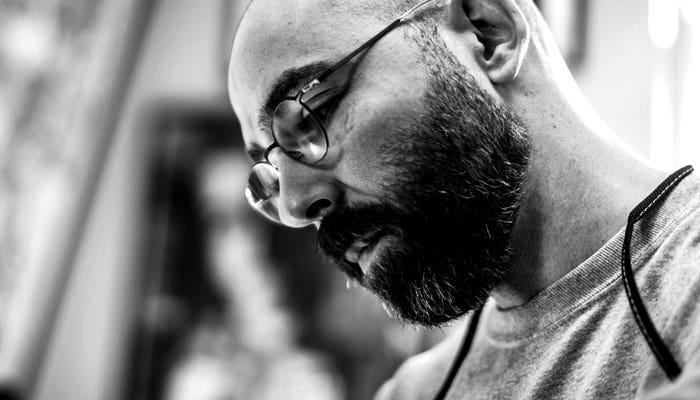 North London-based Luca Ortis specialises in horimono, the traditional Japanese style of tattoo, creating large-scale custom designs for every client.
Limited Edition Ortis Dragon Hip Flask
The benevolent dragon, revered throughout East Asia, is a bricolage of animal parts, from its camel snout and deer antlers, to the carp scales cladding its serpentine body. Coiling majestically amongst swirling cosmic clouds, Luca Ortis' spirited dragon exhibits all its signature traits, its three-taloned feet distinguishing it as a uniquely Japanese interpretation. Ortis' distinctive mark, in the form of a rectangular senjafuda votive slip, is placed customarily off-kilter.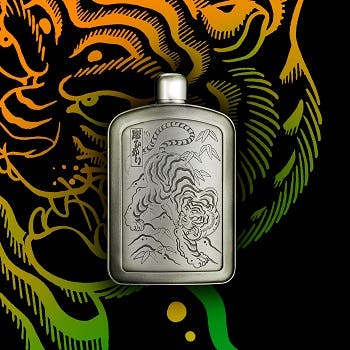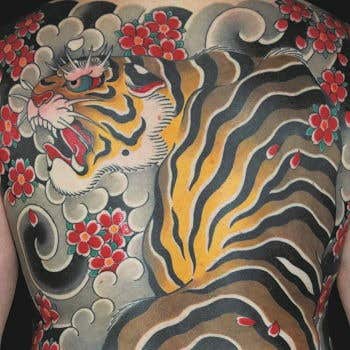 Limited Edition Ortis Tiger Hip Flask
Designed by London based tattoo artist Luca Ortis who specialises in the traditional Japanese style of Horimono, the tiger hip flask features the powerful feline depicted on a rock and surrounded by bamboo. The tiger symbolises strength and courage, while the rock represents strength and bamboo, which is known for both toughness and flexibility.
Taco Joe
Taco Joe got his first tattoo at 16. Based in Kuala Lumpur, the Kota Kinabalu native's speciality is the traditional American style tattoo, given a modern twist.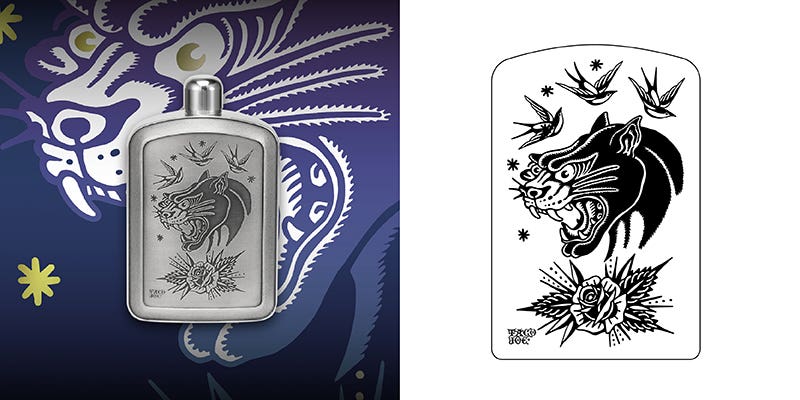 Limited Edition Taco Joe Panther Hip Flask
Taco Joe's affectionate take on vintage Americana taps into a contemporary hankering for provenance and authenticity, featuring graphic elements symbolic of strength and steadfastness. The snarling panther anchoring the composition represents patience and the spiritual senses. Swallows overhead are guiding stars, leading travellers to a safe return, and the rose indicates courage, balance and hope.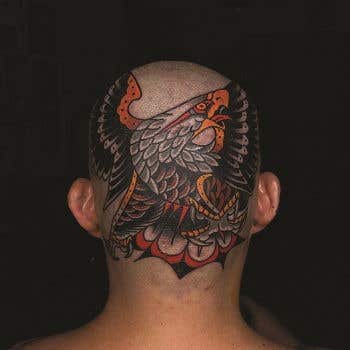 Limited Edition Taco Joe Eagle Hip Flask
Tattoo artist, Taco Joe renders the majestic eagle in classic American tattoo style on a hip flask. Soaring from lofty heights, the eagle is associated with freedom, resilience and the ability to rise above adversity. He is based in Kuala Lumpur and specialises in old school tattoos.
Guen Douglas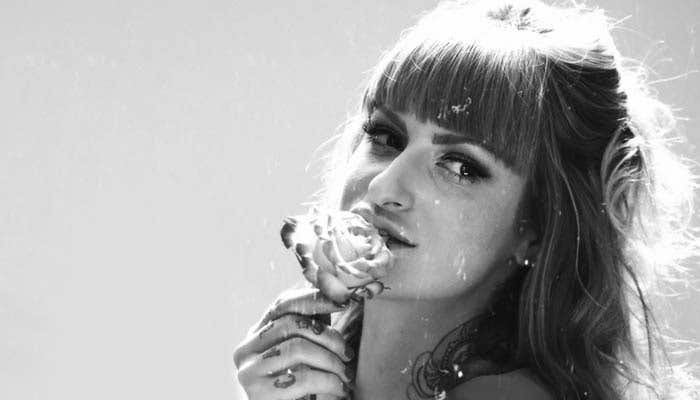 Guen Douglas, Berlin-based tattooist and illustrator, fuses the boldness of traditional American tattoos with comic books, art nouveau and illustration.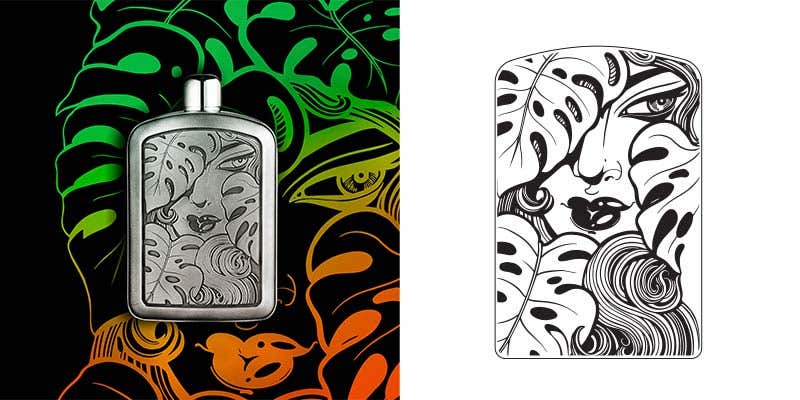 Limited Edition Douglas Monstera Hip Flask
Berlin-based tattooer and illustrator, Guen Douglas' design is inspired by the Monstera plant, a species of tropical climbers. The beloved houseplant famed for its iconic perforated leaves, represents honour, respect and longevity; three keys to any enduring relationship. Guen's art fuses the boldness of traditional American tattoos with comic books, art nouveau and illustration.
Sam Rulz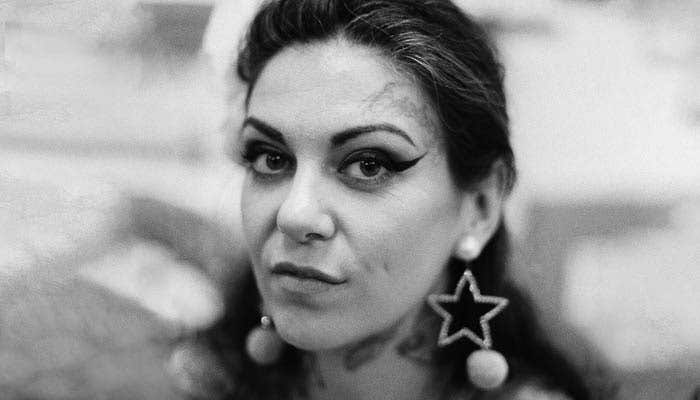 Sam Rulz, Vienna-based multidisciplinary artist, has been tattooing since 2006. She works with watercolour, oils, lino printing and sculptures.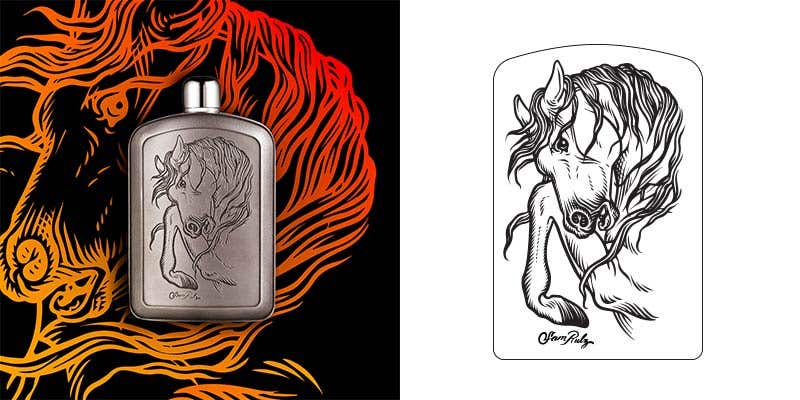 Limited Edition Rulz Stallion Hip Flask
Multidisciplinary artist Sam Rulz' mighty Stallion tattoo art symbolises power and beauty. The New Zealand native who now resides in Vienna finds the horse's roles throughout history and human civilisation fascinating, in which their importance has varied through time. Ancient cave arts and paintings further prove the horses' powerful hold over mankind's attention.
Adam Vu Noir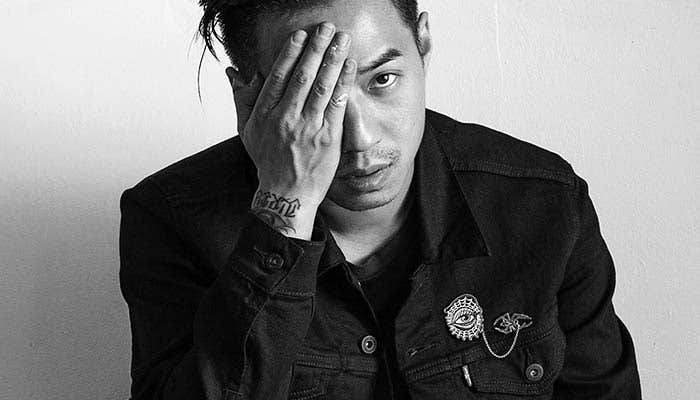 Adam Vu Noir, a multimedia artist from Los Angeles, California, takes a distinctive approach to surrealist art and is one of the leading artists in contemporary tattooing.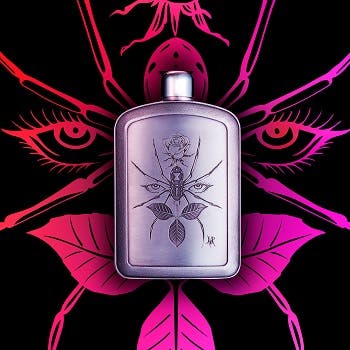 Limited Edition Vu Noir Spider Hip Flask
A black widow spider takes centre stage with a pair of alluring eyes and a fully-bloomed rose in the spider hip flask by Adam Vu Noir. A clash of styles between western fine line tattooing and surrealism, this design evokes a sense of power, mystery and growth.