Engravable pewter hip flasks
Traditionally, hip flasks were designed to be thin and curved, for easy and discreet concealment. Now, hip flasks take on various shapes and sizes, to be enjoyed on the go.

Explore our range of palm-sized pewter hip flasks, ranging from simple and sleek surfaces to ones with various motifs and finishes.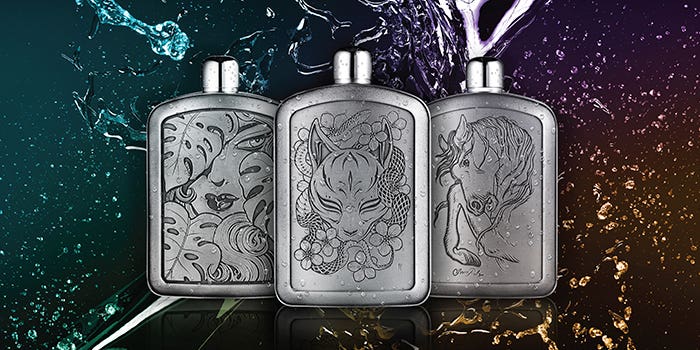 Using your pewter hip flask
✔ Easy to use
✔ Convenient to clean.
✔ Discreetly fits in pockets and bags.
✔ Plus, you can have a drink any time you want!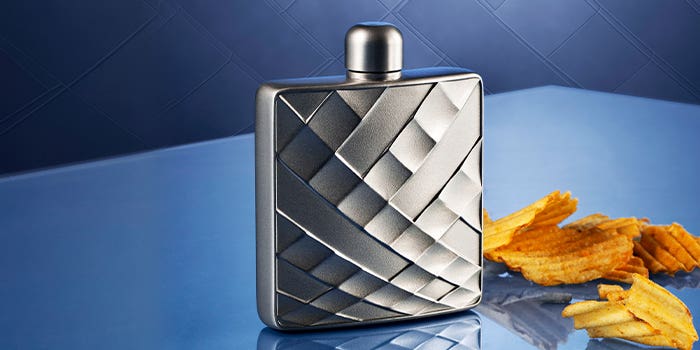 Benefits of carrying a pewter hip flask
✔ Our hip flasks are FDA-compliant.
✔ Food safe and lead-free.
✔ Pewter is also excellent for its low heat conductivity, preserving the ideal temperature of your chosen liquor.
Personalised hip flask
Mark special occasions and celebrations in your life with a personalised hip flask.

Our pewter hip flasks are engravable to make them more exclusive, personal and special. They also make practical and memorable gifts for your loved ones.
Browse our hip flasks
Frequently asked questions
How do you fill a pewter hip flask?
First, place the hip flask on a flat, solid, and steady surface. Place a funnel in the flask's opening and pour your preferred liquor into the funnel slowly. We recommend pouring in your liquor in small doses so that the liquor does not overflow.
Can you put mixed drinks in a pewter hip flask?
Our hip flasks are perfect for various hard liquors such as whiskey, bourbon, rum, gin and brandy. However, we advise against filling your hip flask with cocktails, cream liquers, carbonated mixers, dairy and low-alcohol beverages such as beer or wine.
How long can you leave alcohol in a pewter hip flask?
Ideally, finish your hip flask's contents within the same day. We recommend not leaving any type of liquid in your hip flask for longer than a week.
How do you clean a pewter hip flask?
Fill the hip flask with water, screw the cap on and shake. Flushing out your pewter hip flask with cold or lukewarm water a couple of times helps clear any pewter dust that may remain from our finishing processes. Leave the hip flask to dry naturally.

Avoid scrubbing or scouring the hip flask with a brush, and refrain from using solvents when cleaning to prevent discolouration.